Checklist of Indigenous and Naturalised Vascular Plants in the Bay of Plenty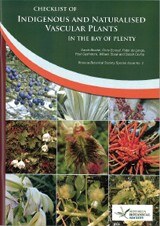 This publication is the first comprehensive checklist of indigenous and naturalised (wild) exotic plants compiled for each of the 16 Ecological Districts in the Bay of Plenty, ranging from Te Aroha ED in the north through to Kaingaroa ED in the south and the large Motu ED covering much of East Cape in the East. Each plant record is fully referenced including herbarium voucher numbers where present.
This publication is a must buy for anyone with an interest in the flora of the Bay of Plenty.
Written by Sarah Beadel, Chris Ecroyd, Peter de Lange, Paul Cashmore, William Shaw, Sarah Crump.
Order your copy today by emailing the [Enable JavaScript to view protected content].
Botany Of Rotorua
Compiled by Bruce Clarkson, Mark Smale, Chris Ecroyd
This 132 page book published in 1991 with many beautiful colour photos, covers all aspects of the flora of the Rotorua District.
Sections are written by a range of well known authors covering history of the vegetation, native forest, exotic forest, pasture, naturalised vegetation, aquatic vegetation, lake shore vegetation, mires, thermal areas, micro-algae, Mt Tarawera, threatened plants, coastal plants inland, mosses and liverworts, fungi, and traditional uses.
Copies still available for only $20 each or $10 each for 10 or more while stocks last.
Contact: The [Enable JavaScript to view protected content]
Send Cheque to:
Rotorua Botanical Society
C/- The National Forestry Herbarium
Scion
Private Bag 3020
Rotorua, 3046
Newsletter Index 1984 - 2008
A revised newsletter index for all the RBS newsletters published from No. 1 in 1984 to No.50 in 2008 has been produced.
Available as a Compact Disc (CD) version with hyperlinking to individual articles. Cost $10 for members, $25 for non-members including p&p.
Please send order stating whether you want printed hard copy or cd version of index and how many required with payment to:
Rotorua Botanical Society
C/- The National Forestry Herbarium
Scion
Private Bag 3020
Rotorua, 3046
Contact the [Enable JavaScript to view protected content] for further enquiries.